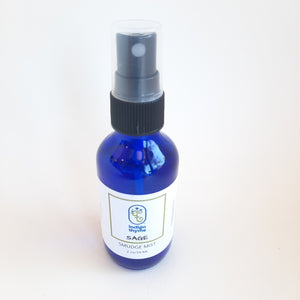 Indigo Thyme Sage Smudge Mist
Regular price
$ 8.00
$ 0.00
Indigo Thyme Sage Smudge Mist blends sage, lemon, rose geranium and salt with a clear quartz crystal to create this purifying and healing mist. It is believed that sage purifies, raises and protects the energies of yourself and your space. Lemon uplifts, clarifies and heals. Rose Geranium promotes love and optimism. Salt purifies. Clear Quartz clears the mind of negativity to enhance higher spiritual receptiveness. 
Great for home, school, work and travel!
Indigo Thyme Mists and Room Sprays are locally handcrafted with care and intention by Ruth Fluker. Made in small batches, with the finest ingredients, to assure quality and freshness. 
2oz/59 ML spray bottle
---
More from this collection