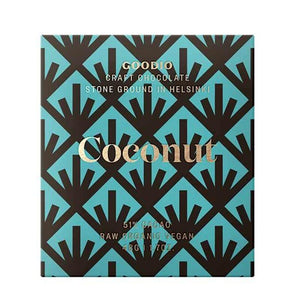 Goodio Coconut Craft Chocolate
Regular price
$ 7.50
$ 0.00
Goodio's chocolate range is made of premium quality, organic, raw and primarily wild ingredients. No white sugar, and low production temperatures ensure a rich taste, that honors the cacao and it's origins. 
Each bar is packaged in a stunningly designed packet, making it feel extra luxurious. The pretty packaging also makes these Goodio bars the perfect little gifts.
Blend of cacao and creamy coconut, resulting in a sweet milk chocolatey flavor that softly melts in your mouth.
INGREDIENTS: cacao bean*, coconut palm sugar*, coconut flakes*, cacao butter*, vanilla powder*.
*organic
Chocolate, minimum 51% cacao content.
Store in a cool, dry place. May contain traces of nuts. Dairy-free, gluten-free and soy-free.
1.7 oz.  Made in Finland
---
More from this collection