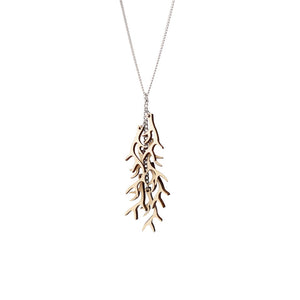 Valona Finnish Birch Tokka Necklace
Regular price
$ 41.00
$ 0.00
The landscapes of Lapland and reindeer antlers found on mountain slopes like treasures have inspired the Tokka earrings and the entire Valona of North collection. The petite yet abundant design is a delicate homage to the soft curvature typical of a reindeer antler. With this design, Valona wishes to underline the significance of protecting vulnerable natural habitats as well as traditional livelihoods of the indigenous Sámi people in the Nordic. Tokka is the Sámi name for a herd of hundreds of reindeers. These earrings carry the ancient magic of the Northern fells in them.
The wooden antlers are made from Finnish sustainably sourced birch plywood, which makes the jewellery an ecological choice, for example as a gift. The chain is nickel-free metal and its length is 72 cm. Due to the long chain, the wooden part of the pendant sits quite low – either above or below the chest, depending on the wearer. This beautifully light pendant is a natural and charming addition to both simple and colourful outfits.
The Valona of North collection is by designer Elina Mäntylä. Made in Finland.
---
More from this collection