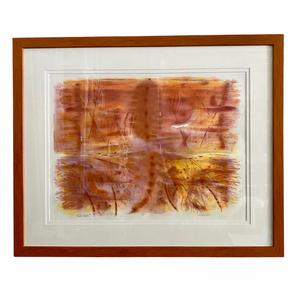 Vintage John N Colt "Tropic Visitors" Lithograph
Regular price
$ 295.00
$ 0.00
Vintage hand signed lithograph by noted Wisconsin artist John N. Colt.
This lovely modern lithgraph is 24" X 30" framed & double matted & is number 8/30.  
John Colt is a notable & distinguished Milwaukee artist.  In a 1999, in a Journal Sentinel article, Bruce Pepich, Director of the Racine Art Museum and Wustum Museum said that John was "One of the three most important living Wisconsin artists." 
He taught at UW-Milwaukee from 1957 to 1990 when he retired as Professor Emeritus. He had continued the family's artist tradition, as his father, Arthur Colt, had been teacher and mentor thru his decades-old Colt School of Art. John is often spoken of by his students with affection, and the many admirers of his paintings recognize his work as unique, singular without being quirky, eccentric or sweet. During his tenure at UWM, he also spent time as visiting professor at the American University in Beirut and the University of Saskatchewan in Canada, Northern Michigan University in Marquette and Ball State University in Muncie, Indiana.
John's paintings, drawings, and prints have been exhibited in countless shows at such venues as the Art Institute of Chicago, Library of Congress, and the Walker Art Center in Minneapolis and placed in such collections as the Whitney Museum in New York City. Twice his paintings were purchased through awards from the Ford Foundation.   He served in the U.S. Navy from 1943-1946 as an electrician on a submarine in the South Pacific, after which he earned a bachelor's degree in art education and a master's in art at UW-Madison.
---
More from this collection