• Home Tour • Interior Design Project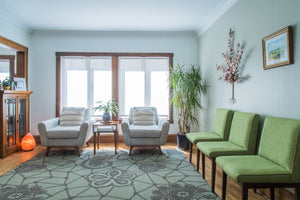 The interior design project for Golden Rey Energy Center in Shorewood, WI involved complimenting the original architectural elements such as the woodwork and footprint of the existing rooms with new paint colors and furnishings. The goal was to make the character of the building shine while creating a healing environment on a restricted budget. Accent colors were inspired by select Finnish textiles and locally made accessories that also worked with their intended logo colors. All in all, this working relationship with Kristen Reynolds of Golden Rey was inspiring and we were able to support her vision of creating a healing oasis for all who enter her space.
---
• Home Tour • The People Behind Our Products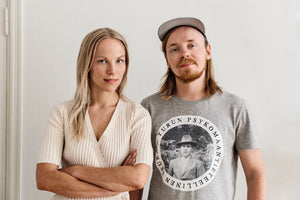 You definitely want to read about the power couple behind Saana ja Olli. Saana & Olli share about their business journey and lifestyle. Their designs are not only seen in their own textile shop, but also in collaboration with international brands in tile to glass and rugs to journals. To top it off, this post also includes a home tour that is sure to inspire you.