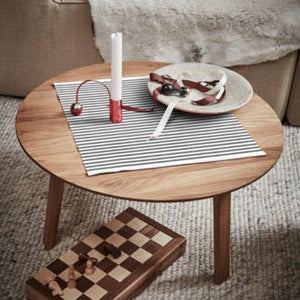 Ekelund Tvars Napkin/Table Topper
Regular price
$ 21.00
Sale price
$ 26.00
The Tvars Napkins are made of 100% Organic Cotton in Sweden by Ekelund Weavers. They are sure to add lovely classic Nordic elegance to your table. It's generous size makes it a lovely table top display as well as a napkin.
Ekelund's collections of textiles are some of the most natural and finest quality woven kitchen, table and home linens available and reflect the taste and style of the Scandinavian good life.
Established in 1692, the Ekelunds have been purveyors to The Royal Court of Sweden for over a century. Can't get much better than that.
Dimensions: 20 
x 20 inches (50 x 50 cm)
Material:
100% Organic Cotton
---
More from this collection