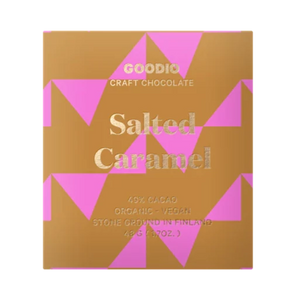 Goodio Salted Caramel Craft Chocolate
Regular price
$ 7.50
$ 0.00
Goodio's chocolate range is made of premium quality, organic, raw and primarily wild ingredients. No white sugar, and low production temperatures ensure a rich taste, that honors the cacao and it's origins. They are raw and vegan chocolates.
Each bar is packaged in a stunningly designed packet, making it feel extra luxurious. The pretty packaging also makes these Goodio bars the perfect little gifts.
There may not be a better way to enrich a flavourful craft chocolate than flakes of creamy caramel sprinkled with finest sea salt.
This product is 100% vegan & organic.
INGREDIENTS: Cacao beans*, Coconut palm sugar*, Cacao butter*, Coconut flakes*, Sea salt. (*Organic).
Store in a cool, dry place. Dairy-free, gluten-free and soy-free.
May contain nuts: cashews.
Net weight: 48g

This bar is proudly handmade with love in Finland - the happiest country in the world by Goodio Chocolate Artists.
---
More from this collection