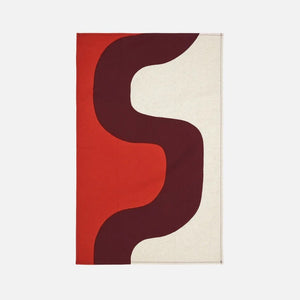 Marimekko Seireeni Tea Towel
Regular price
$ 26.00
$ 0.00
The Seireeni pattern tea towel is made of an unbleached cotton and linen blend. The towel has a hanging loop on the long edge.

This product includes 46% recycled cotton and 21% recycled linen.

While traveling in Greece in the early 1960s, Maija Isola got inspired by the movement of water and depicted it in several fabric prints, including Seireeni (siren) from 1964. Named after the mythological sirens, the pattern also recalls the enchanting singing that lured sailors into dangerous waters.
Dimensions: 47x70cm, 19x28inches
Care instruction: Shrinkage max. 6%. Wash before use. Follow the washing temperature given. Do not add fabric conditioner.
---
More from this collection